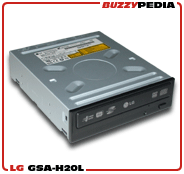 Review: LG GSA-H20L Dual Layer DVD/CD Rewriter with LightScribe
By:
Cliff Pennock
Printable
Single Page
For some reason, DVD and CD (re-) writers don't last very long once they're built into my computer. This goes all the way back to the first Philips CD writer I ever bought (when these things were still well over $1,000). On average, I buy three new rewriters each year because my "old" one broke. I'm not sure why this happens, each month I burn perhaps a few backups of my files on DVD and maybe one CD with photos of my 2-year old. As I understand it, that isn't much since there are people out there that spend all their waking minutes illegally downloading software, movies and what not and burn that on DVD/CD. I'm not one of those people (really, I am not!). I do make the occasional backup of a DVD movie but that's simply because I get fed up having to buy the same DVDs over and over again because my daughter thinks it's fun using them as small shiny Frisbees.
The advantage of buying new rewriters so often is that I always have the latest and greatest. Not that these things change that much tech-wise.

My old DVD Rewriter, a Pioneer, broke down last week so I went shopping for a new one. Since I've always been curious about the
LightScribe
technology, I ended up buying the
LG GSA-H20L Dual Layer Multi DVD/CD Rewriter with LightScribe Technology
. I think that's Suomi for "rewriter that can scribble on a disk as well".
The LG
GSA-H20L
isn't sold in the United States, but as far as I can tell the
GSA-H10LI
is the exact same rewriter, and so is the
GSA-4166B
. In fact, there are a whole bunch of LG rewriters that seem to have the exact same specs as the GSA-H20L. But don't quote me on that.
Copyright © 2006 - BuzzyPedia.com