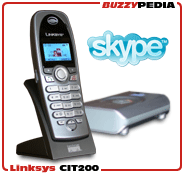 Review: Linksys CIT200 Skype Phone
By:
Cliff Pennock
Printable
Paged
"The Whole World Can Call for Free". That's what it says on the Skype home page. For those of you not familiar with Skype: Skype lets you make phone calls through the Internet. The call is free between Skype users, no matter what part of the world they are in.
All you need to use Skype is a free software download (
www.skype.com
) and a headset with microphone to connect to your computer. To make a call through your computer using Skype once meant having to be wired to your computer. But no more.
Linksys is one of the first companies to offer Skype users a wireless solution: the
CIT200
.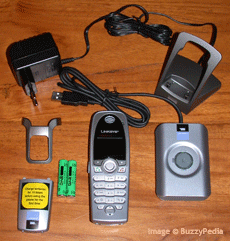 The CIT200 comes complete with everything needed to get you started right away: a desktop phone charger, two rechargeable AA batteries, a power adaptor, a USB station, a manual and even a belt clip. For a retail price of
US$ 99.99
that's not bad at all.
The USB station is what makes the CIT200 communicate with your desktop computer. It's great they didn't combine the desktop phone charger and the USB station in one device because now you are able to keep the phone in it's charger anywhere you want and not necessarily right next to your computer.
You might have noticed there's one extra item on the image above. That's the battery cover (with the yellow sticker) for the phone. For some reason it is packaged in its own small plastic bag and not simply installed on the phone yet. I guess they wanted to make absolutely sure you install the batteries first before you try to operate the phone.

Installation was easy and used Linksys' proprietary setup wizard I had seen once before when installing a Linksys Router. The setup installs a systray application that constantly tracks the status of Skype and your CIT200. When it detects that Skype is running and online, it will automatically setup a connection with the CIT200. And really, that's about all you have to do to start calling.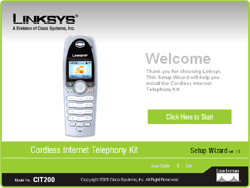 My only problem with the installation was that it interfered with my XP setup. All of a sudden, I noticed I didn't have sound anymore and it took me a while to find out it was the installation of the Linksys software that caused this. For some reason, the software had set the CIT200 as the preferred audio playback device. So XP was trying its darndest to play sounds (like my MP3s) through the CIT200. Apparently, the CIT200 is installed as an audio device in XP and you can adjust some (quality) settings through the Windows Audio Mixer. This is all fine and dandy but that's no reason to set the CIT200 as XP's preferred audio device. Once I figured it out, it was just a matter of setting my soundcard as the preferred playback device again, but I'm sure not everybody will be able to figure out what just happened to their computer.
The setup CD also allows you to install Skype itself in case you don't have it on your computer already. But since new Skype versions are made available regularly, it's best to skip the installation from CD and install the newest version from the Skype website instead.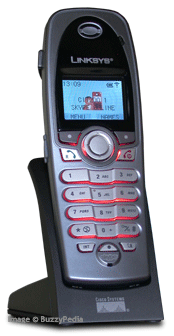 The Linksys CIT200 isn't your cheap, a-dime-a-dozen, cordless telephone. It has a nice little color LCD display and the buttons are nicely backlit when you press a button. It's light yet sturdy and it lies comfortably in your hand when calling. Just below the color LCD screen are two quick buttons and a round directional pad to control the onscreen menus.
Another prominent button is the "Skype" button at the bottom. Pressing this button gives you a list of your Skype contacts and you can quickly glance who's online and who's not. You can browse through this list with the directional pad and call one of them with a single key press.
The desktop charger is small and elegant. Placing the phone in the desktop charger causes the telephone to play a short melody, to confirm it is charging.
The USB station has a single button on top, which you can press to page the phone in case you can't find it. It also has two LEDs, one for indicating the thing is actually working (often referred to as the "Power Led"), and the other for indicating the phone is in use. Like I said earlier, it's great that Linksys didn't combine the desktop charger and the USB station in one device. You can place the desktop charger anywhere you want; for instance in the living room while your computer is in another room.
Once you have installed the software and connected the USB station to your computer, you are ready to make Skype phone calls. There isn't anything else that needs to be set up since everything is pretty much done automatically for you. You can view your Skype contacts list on the handset and call one of them, or call an ordinary landline if you have
SkypeOut
credits.
One thing though, a huge obnoxious sticker on the battery cover advices you to first charge the batteries for 14 hours before using the phone. I really couldn't wait 14 hours (I just bought a new gadget and you want me to wait 14 hours before I can use it? Shoot me now!) and since the rechargeable batteries were ordinary NimH batteries, I grabbed my NimH charger and charged the batteries in
one
hour! Smart, no?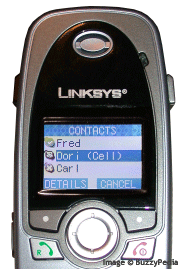 The first call I made was to a friend with whom I often talk through Skype. I pressed the "Skype" button on the handset and since he was the only contact online at the moment, he showed up at the top of my contact list on the LCD display. If you are used to making Skype calls using headphones and a microphone, the sound quality is going to be a bit disappointing. Skype transmits the full audio spectrum when you make a call, which means the sound quality is absolutely amazing. That is, if you are listening to it through headphones and not a small telephone speaker. The quality through the CIT200 is still
much
better than through ordinary telephones, though.
We talked for about 15 minutes and I was able to walk around the house without the sound dropping or cutting out once. The CIT200 uses
DECT
to communicate with the USB station so that wasn't all too surprising. It
was
however a pretty cool experience making a Skype call without being tied to my computer. And of course this was a Skype to Skype call, thus
free
!
Since I already had some SkypeOut credits, I decided to try to call an ordinary landline too, namely my own. I entered the area code and my number and pressed the Call button. I heard the phone dial and was greeted with a "busy" tone. That was weird. I checked if perhaps it was a problem with Skype so I entered the same phone number in the Skype client on my desktop. This time my phone rang. So there wasn't anything wrong with Skype. I tried a few more times on the headset but got a busy tone every single time. I guess it was time to have a look at the manual.
I quickly found a note in the manual saying that in order to make a SkypeOut call, you need to prepend a "
+
" to the telephone number. So I did. This time I got connected. To
Chad
. Chad was an angry foreigner who didn't appreciate being called in the middle of the night. On the upside of the experience, I learned a few foreign cuss words. I still have no idea in what language because I didn't recognize the flag icon.
It turns out that the "+" thingy only works in the United States, but not in other countries. I'm not sure what it does here in Europe, but I need to enter a "+"
and
the country code before entering the area code and phone number. That was a bit disappointing because I was hoping it would get that information from the desktop Skype client. Nevertheless, I was able to finally make the call to my landline. While on the phone with myself, I noticed there was a slight delay. But I'm sure it would be unnoticeable when calling people other than yourself. In the mean time, I was having fun trying to sing a song while listening to my own voice delayed.

While in a call, you can actually answer a second incoming call or make another outgoing call.
In short, the CIT200 performed flawlessly for what it was basically meant: to make cordless calls through Skype. And for that alone it's more than worth its price.
If you are like some people I know who can talk on the phone for hours at end (you know who you are!), you will be glad to learn the CIT200 has two alternatives for carrying a conversation: through the handsfree option using the built-in speakerphone, or by using a headset through the headset connector at the side of the handset. The sound through the speakerphone is actually pretty impressive and you are able to adjust the volume while in a call.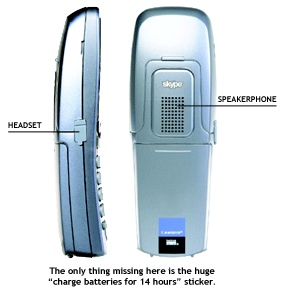 The 2.5 mm headset connector was a bigger surprise since it accepted my cell phone's headset without a problem. It even used the headset's built-in microphone. So I quickly attached the included belt-clip and not only was I cordless, I was now completely handsfree too!
Besides your Skype contacts list, you can create additional phonebooks on the phone itself. The CIT200 distinguishes between two different phonebooks: a
private
phonebook and a
shared
phonebook. The difference being that private numbers are stored on the handset, while shared phone numbers are stored on the base unit. This only makes sense if you realize a base unit can serve up to four handsets, a feature I thus far had failed to mention.

The manual mentions that the private phonebook (stored on your handset) can store up to 100 numbers, but the shared phonebook (stored on the base unit) can only store up to 20 numbers. If this means 20 numbers
for each of the four possible handsets
or
in total
I don't know (since I have only one handset here), but this seems a bit low to me.
A quick glance through the handset's menu options and you'll soon realize the CIT200 has many, many nice features.
Skype

For every day Skype use, you really don't need to touch your desktop Skype client anymore. Through the handset you can view your contacts list, change your own online status, and even check your Skype voicemail (if you have a Skype Voicemail subscription). If you have voicemail, the LED on the handset will blink.
Display

Through the "Display" settings, you can set the handset's clock, the time format (24-hour or am/pm), the handset's name, the display's contrast, the handset's language (English US/UK, Spanish, Portuguese, Germans and French), the display's wallpaper, and the used color theme.
Sounds

The CIT200 has a polyphonic FM synth built-in, which means it can do more than beep alone when it wants to get your attention. It has 15 polyphonic ringtones you can choose from - from a simple synthesized ring to polyphonic music. A side note: apparently Linksys has a soft spot for Chopin - which is cool because so do I.

Advanced

The advanced settings on the CIT200 offers you an Alarm Clock, a (count down) Timer and a Stop Watch. You can also setup "
Touch and Dial
" here. Touch and Dial enables you to speed dial a number by pressing any key on the handset. I'm not sure if that's actually a useful option or not, since dropping or bumping the phone would be enough to call someone. The last option in the Advanced section is the "
Auto Answer
" option. This enables you to automatically answer an incoming call when you pick up the handset from the charger.
System

Here you can manage the registration and connection of your handset to different base units. You can setup your handset to use any one of up to four different base units.
The CIT200 is a great effort from Linksys and it closes the gap between "real" and Internet telephony considerably. Hardware-wise the only drawback is that it can't be used as an ordinary phone as well, so you still need to keep two phones. But recently Linksys has introduced the
CIT300
, which is a hybrid Skype/landline phone. The CIT300 lists for
US$ 129.99
and offers somewhat more functionality than the CIT200. But the hybrid function alone makes it well worth the $30 price difference with the CIT200.
So far I've enjoyed the CIT200 immensely and I have been suggesting this phone to all my Skype contacts (read: friends and family). The two minor annoyances were that the software installation messed up my XP setup a bit (and I've heard similar reports from friends and family who are using the phone now too), and that for dialing SkypeOut numbers, even local ones, I need to do that "+" plus country code thingy.
A word of advice though, go check out
Linksys' website
for the latest drivers for this phone. Apparently it prevents a few problems users have been experiencing.


The good


Nice design

Color LCD display and backlit buttons

Charging station separate from base unit

Very easy to use for Skype to Skype

Good sound quality

Handsfree function through speakerphone or headset

Polyphonic ringtones

Long range (according to manual: 300 meters (900 ft) outdoors, 50 meters (150 ft) indoors)

Many, many features


The not-so-good


Dialing SkypeOut phone numbers requires entering a "+" plus country code

Not able to use the CIT200 on Mac or Linux due to lack of drivers


The downright ugly


Messed up XP's audio settings
Copyright © 2006 - BuzzyPedia.com