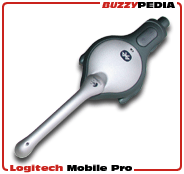 Review: Logitech Mobile Pro Bluetooth Headset
Where I live, it's against the law to use a cell phone while driving a car unless you use some form of handsfree set.
I don't care much for wired headsets and since my cell phone has Bluetooth built in, the obvious choice was to use a Bluetooth headset. The added advantage is that it also looks a whole lot cooler since I have one of those PDAs with a built-in GSM phone, and people always look at me funny when I hold
that
thing to my head.
So far I've tried several Bluetooth (or BT for short) headsets - some cheap, some expensive, but none of them I really liked for some reason or another. Most of the time they were simply too small and too light. One gush of wind, or one sneeze, and I would be picking up the headset off the ground. Plus, to be honest, men simply don't look cool talking with a small designer headset on their ear. Women wear them as jewelry, while on men those things simply look ridiculous.
So one day, I decided it was time to try something bigger and something more
macho
, something like the
Logitech Mobile Pro Bluetooth Headset
. Considering the Logitech box shows a guy in a suit wearing the headset, and the headset doesn't make him look like a sissy, I thought it be cool enough for me as well.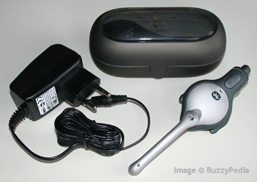 It's been a long time since I actually bought something that didn't come with an installation CD, as the stuff I usually buy can be hooked up to my computer one way or the other. This headset is really no different, but because it's a Bluetooth headset, and all Bluetooth headsets use the same "Bluetooth Profile" (think "driver"), there's no need to install anything if you plan to use it with your computer or PDA.
Bluetooth Headsets are either charged through a USB cable that connects to your computer or through an A/C power adapter. Charging
anything
through USB, in my opinion, is pretty stupid. First of all, it requires your PC to be on when you are charging the device, and second of all, I don't feel like using my PC as a $3,000 battery charger (hey, it's an expensive PC). The Logitech Mobile Pro comes with a handy carrying case that doubles as a charger station, while a power adapter is supplied too.
The Logitech Mobile Pro retails at
US $99.99
.
One side note about the manual; strangely the manual included is a 132-page booklet of which only the first 8 pages are in English. The other 124 pages are translations in 15 different languages. That seems like an awful waste of paper to me.
I must say though that
Suomi
is an incredibly funny language to read.

As I mentioned earlier, BT headsets do not require the installation of drivers or any other software for that matter. If your PC, PDA or Cell Phone has Bluetooth built in, all you need to do is
pair
the headset with your device. Pairing is really nothing more than creating a connection between two Bluetooth devices. Bluetooth devices will not be able to communicate with each other until this connection has been setup. This is to prevent other unwanted Bluetooth devices from connecting to your device. You don't want someone else to be able to use your phone with his headset, or transfer files from your Bluetooth capable PDA to his Bluetooth capable PDA without you knowing about it.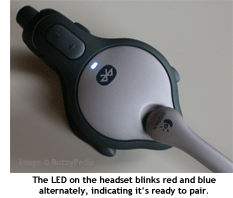 To pair the Mobile Pro with your device you need to put the headset in "
discoverable mode
" by pressing the function button on the headset for about 10 seconds. While in this mode the headset will listen for other Bluetooth devices looking to setup a connection with it. You can now set your cell phone to look for Bluetooth headsets and it should find the Mobile Pro and finish the connection. Once the pairing is complete, you can use the Bluetooth headset on your cell phone. Trust me, it's really much easier than it sounds.
I admit that the reason I chose the Logitech Mobile Pro was a cosmetic one. I wanted something that was more masculine than the average Bluetooth headset you see nowadays. The Mobile Pro is a bit bulkier, but strangely enough this only enhances its comfort.
Logitech obviously has a great ergonomics research department. They could have taken the easy route and used an existing solution for trying to get the headset to actually stay on your ear. Instead, they came up with a new solution. One I had not seen before but that works very, very well. It uses two separate spring hinges - one hinge grabs your ear like a pair of tweezers would: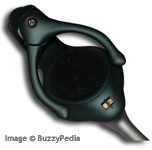 The other holds the headset closely against your ear: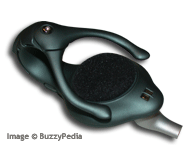 The result is a very snug fit and trying to shake the headset off your ear would sooner result in a concussion than in losing the headset.
The boom mic can be folded up when you need to store the headset. It's about two inches long, which places the microphone nearer to your mouth and theoretically this should improve sound quality. There were also four teeny little windscreens in the box that you can place over the tip of the boom mic (took me a while to figure out what those things were since the manual did not mention them) to prevent wind from taking over your conversations.
All in all, this is a
very
comfortable headset and I experienced no discomfort wearing it over a longer period of time.
There isn't really anything spectacular about using a BT headset. You wear it, you talk and you listen - that's about it. If you can hear the other party and the other party can hear you, then the headset is doing what it's supposed to do. There shouldn't be more to it. Nevertheless, it always amazes me why these headsets seem to have so much trouble with this basic functionality.
My previous headsets all suffered from sound quality issues. Either I had problems hearing the other person or they had problems hearing me. Because there was always some distance between the headset and my ear, the volume would always be too low. In quiet surroundings this wasn't a problem, but driving my car or walking on a busy street was a totally different story; not only would I have to strain to hear the other person, but my voice would also drown in the sound of my noisy surroundings or the sound would keep cutting out.
One thing I was not aware of when I bought the Mobile Pro, is that it has a
noise- canceling microphone
. This means it
should
cancel out sounds other than my voice. And the small windscreen should keep out unwanted noise from wind hitting the mic when using the headset outside. All this should result in the other side being able to hear me clearly.