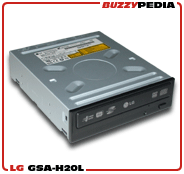 Review: LG GSA-H20L Dual Layer DVD/CD Rewriter with LightScribe
By:
Cliff Pennock
Printable
Paged
For some reason, DVD and CD (re-) writers don't last very long once they're built into my computer. This goes all the way back to the first Philips CD writer I ever bought (when these things were still well over $1,000). On average, I buy three new rewriters each year because my "old" one broke. I'm not sure why this happens, each month I burn perhaps a few backups of my files on DVD and maybe one CD with photos of my 2-year old. As I understand it, that isn't much since there are people out there that spend all their waking minutes illegally downloading software, movies and what not and burn that on DVD/CD. I'm not one of those people (really, I am not!). I do make the occasional backup of a DVD movie but that's simply because I get fed up having to buy the same DVDs over and over again because my daughter thinks it's fun using them as small shiny Frisbees.
The advantage of buying new rewriters so often is that I always have the latest and greatest. Not that these things change that much tech-wise.

My old DVD Rewriter, a Pioneer, broke down last week so I went shopping for a new one. Since I've always been curious about the
LightScribe
technology, I ended up buying the
LG GSA-H20L Dual Layer Multi DVD/CD Rewriter with LightScribe Technology
. I think that's Suomi for "rewriter that can scribble on a disk as well".
The LG
GSA-H20L
isn't sold in the United States, but as far as I can tell the
GSA-H10LI
is the exact same rewriter, and so is the
GSA-4166B
. In fact, there are a whole bunch of LG rewriters that seem to have the exact same specs as the GSA-H20L. But don't quote me on that.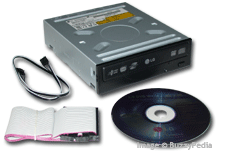 Prices of DVD/CD (re)writers keep coming down. Just over a year ago I paid over
US $100
for a
Dual Layer
DVD rewriter. A few days ago I bought the LG GSA-H20L, which is Dual Layer as well and has the
LightScribe
technology, for
US $49.00
at the local computer store (while retail price is around
US $89.00
). Mind you, that's for the retail version and not some stripped OEM version. The nice thing about retail versions of DVD/CD rewriters is that they come with all necessary software to start burning CDs and DVDs. OEM versions are fine if you already own a (legal) copy of burning software.
One thing I noticed after unpacking the drive, was that there's neither a volume control nor a headhones jack on the front fascia. I don't think I've ever used those anyway, so no biggy to me.
The GSA-H20L comes with a 40-pin IDE cable, an audio cable, 4 screws, some paperwork and a CD with the OEM versions of
PowerDVD
,
PowerProducer
,
Nero Express
and
InCD
. All in all a pretty complete package.
Even though the actual installation of a DVD/CD rewriter is pretty straightforward, I do like to give you one tip. BTW, if this is getting too technical for you, just skip to "Software Installation" below.

When it comes to storage devices, there are two ways they can transfer data to and from your computer: by using
"PIO Transfer Mode
" or by using
"DMA Transfer Mode"
. PIO mode is by far the slowest of the two and in this mode, your storage device will
never
be able to reach its full speed - or even come close to its full speed for that matter. Now for some obscure reason, whenever you install a new DVD/CD rewriter in
Windows XP
the transfer mode will default to PIO, meaning your rewriter will be as slow as a snail in a puddle of oil. Manually setting the transfer mode to DMA does not help since XP will set it back to PIO the first change it gets. There's only one way to get XP to set the transfer mode to DMA and get it to stick. Follow these instructions carefully:
Open your Control Panel and double click the System icon

Click the Hardware tab

Click the Device Manager button

Click on the [+] to the left of IDE ATA/ATAPI controllers

If you installed the drive on your primary controller, double-click Primary IDE channel else double-click Secondary IDE channel

Click the Advanced Settings tab and verify one of the two devices is indeed set to PIO Mode

Click the Cancel button

Right click the IDE channel you had chosen earlier, and choose Uninstall

Click OK in the message box that appears, the IDE channel will now be uninstalled and removed from the list

Right-click IDE ATA/ATAPI controllers and click Scan for hardware changes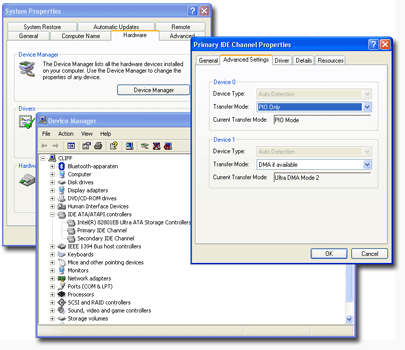 XP should now reinstall the IDE channel and set the transfer mode to DMA.
Software Installation
Before you can burn any DVD or CD with the drive, you will need some kind of burning software. The LG GSA-H20L comes with
Nero Express 6
, which is a stripped, wizard-like version of
Nero Burning ROM 6
. If you already have Nero installed on your computer, and the LG is supported by it and it also supports LightScribe, then you don't need to install Nero Express. If you have Nero installed and it
doesn't
support the LG nor has it LightScribe installed, then you
do
need to install the supplied Nero Express. You don't have to worry that your current full-fledged Nero version will be overwritten by a feature-challenged Nero Express. Nero's installation program is quite smart and instead of overwriting your current Nero installation, it will upgrade it and add support for the LG and LightScribe. Neat, huh?
In conclusion, I encountered no problems whatsoever installing both the hardware and software.
The LG GSA-H20L supports a wide range of DVD and CD formats. Apparently this is something special, since LG officially calls this rewriter a "
Multi DVD/CD Rewriter
". They even use a nice little "SuperMulti" logo on the drive's tray.

According to the box, it's pretty special that this rewriter supports all three major formats:
DVD+R
,
DVD-R
and
DVD-RAM
. So if this makes you all warm and tingly inside, you probably know what they are talking about. Anyway, here's a list of the supported formats and their supported read and write speeds (taken from the manual). I must say the 16x DVD±R write speed is most impressive: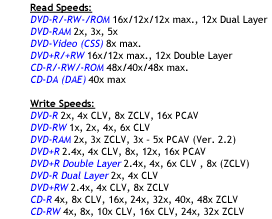 Now I could bore you here with all kinds of speed tests I supposedly performed, but I won't. First and foremost because I
didn't
do any speed tests, and second because nobody really cares if the drive really reaches 16x or gets stuck at 14.7x while burning. Or that it slows down ever so slightly at the middle of a disk, except when it's a full moon or Friday the 13th. I burned a few disks with it. It was
fast
. I really wasn't paying attention if it took 7 or 8 minutes to burn a DVD. There, that should be enough information.

Seriously, the GSA-H20L's speed is the least interesting of its features. I honestly don't care if it takes a few minutes longer to burn a CD or DVD. Especially when the drive has a far more exciting feature:
LightScribe
!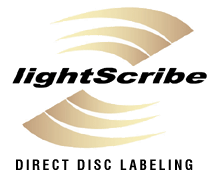 The
LightScribe
technology was invented by Hewlett Packard and the first burners with this technology appeared at the beginning of 2005. The technology hasn't really changed since, but prices for burners equipped with LightScribe have. Like I said in the first paragraph, I paid about
$49.00
for my LG GSA-H20L, which is only a few dollars more than burners without LightScribe.
Before I had this burner, there were two ways I labeled my CDs and DVDs. I either used
very
expensive photo quality labels printed on a photo printer, or I used a CD marker pen to simply scribble some text directly on the CD. Now the end result of the full-color photo quality labels is undistinguishable from a true commercial disk, but expensive and laborious. Label plus ink costs are about $2-$3 per disk - quite steep really. Doodling on a disk with a CD marker is of course very cheap - in more ways than one.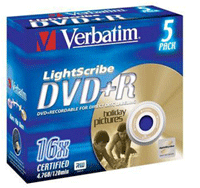 The nice thing about LightScribe is that you
always
have your labeler handy. No need to look for the CD marker (which is never in the place you last put it) or your disk labels. LightScribe drives use the same laser they use to burn your disk to "etch" an image on the specially coated label side of a LightScribe disk. In short, when you are done burning the data, you flip the disk and start etching the label. It's really that simple. The special LightScribe disks are about 30-50 cents (depending on the brand) more expensive than their non LightScribe counterparts.
The technology was touted as "the most innovative new feature to hit optical storage in years", while "why didn't anybody think of that before" would have been more appropriate. The results are neither all that spectacular nor usable for any professional goal. The label side of LightScribe disks are a dull, matte, gold-whitish color and whatever is etched on it, is the same color - only darker. So your labels will look like a bad copy. A very, very sharp copy, but without any true contrast. Etching the same image over and over again
will
darken the etch, but it will never be true black. LightScribe disks use a special coding on the inner ring enabling the drive to position the disk precisely. So printing the same image over and over will position the image on the exact same spot each and every time.
The LG GSA-H20L can etch up to 600dpi, which is the same resolution an average laser printer can handle. The LightScribe software offers three print qualities:
Draft
,
Normal
and
Best
. The difference between the three is the darkness of the end-result. There's also a huge difference in the time it takes to etch an entire disk. With the "Best" setting, it took 24 minutes to etch a disk. With "Normal" setting it took considerably less time. I haven't tried "Draft" yet. I'll tell you why later on.
I had chosen to create a few "real-life" test labels since people can relate better to those than to some labels of non-existing stuff. The first label I tried to etch was a "Bug's Life" label I quickly created from some black and white images
1)
. I chose the "Best" settings for etching. And although the software estimated it would take 18 minutes to etch the label, it in fact took 24 minutes. The result was ok, but I wasn't all that impressed: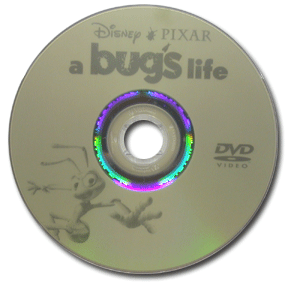 The second label I created from a color label I got off the Internet. This time I chose the "Normal" setting. The result was awful, probably due to the lesser contrast of a color image and the "Normal" settings: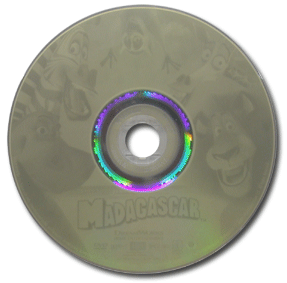 This is the reason I didn't even try the "Draft" setting, since that would probably just eject my disk unprinted. The third label I again created myself from black and white images. This time I etched it using the "Best" setting, then etched it
for a second time
on "Best". The end result was somewhat darker, but you can clearly see something didn't work out as expected (concentric lines).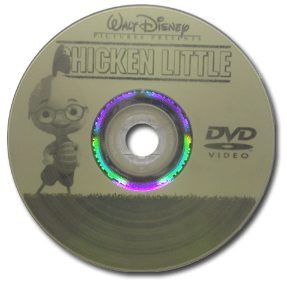 By now my thoughts were that the LightScribe option was nice, but more a convenience than anything else. Out of curiosity, I went to the
LightScribe website
to read up on the technology. One thing that immediately caught my eye on the home page was the "
Contrast utility
" under the "Get the latest downloads" header. I clicked the link and found this:
Your LightScribe product should provide you with the best performance of Label Quality and print time. However, some customers have indicated that they are willing to invest additional labeling time for increased contrast and subsequently increased Label quality for their LightScribe discs. The following utility can be downloaded to modify your print modes when labeling LightScribe discs.
It continued to explain how it would turn the old "Normal" setting into the new "Draft" setting, the old "Best" setting into the new "Normal" setting, and create a whole new "Best" setting with enhanced contrast. Needless to say I immediately downloaded and installed the utility. After installation I created the fourth and last test label from black and white images. The result was a
much
darker print than on my previous three test DVDs. It did take a total of 30 minutes or so to etch the label, but I was pretty happy with the result.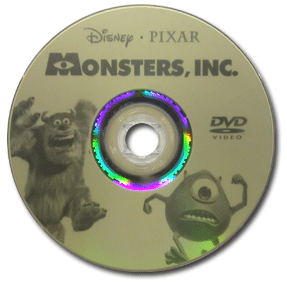 I would still never use this as an alternative to photo quality stick-on labels (also because LightScribe can only print in black and white) but it sure beats writing something on it with a CD marker. And the quality is good enough to fool my two year old too because it only took one look before she started using my test disks as small matte Frisbees!

1) Before you ask, I didn't make any copies of real DVDs since that would be illegal. FWIW, I do own the original DVDs of all used examples here.
How do you rate a DVD/CD Rewriter? That was the problem I was having while trying to rate the LG GSA-H20L. Although I have more than enough material to compare it with (like, all my previous burners that went south), it still is hard to give it an actual rating. And that's because each and every feature of a rewriter, like high read/write speeds and in this case the LightScribe technology, stands or falls with the quality of the media used. If you use cheap DVD/CD media, it would be unfair to blame the drive when you end up with a lot of coasters. And the maximum read and write speeds are only obtained under specific conditions, like using high quality compatible media, and only on certain tracks on the disk. Even different brands of LightScribe disks can make a huge difference in the end result when etching labels.
So far, anything I rated above a 9.0 had a certain "
wow
"-factor. And although the LG GSA-H20L has pretty impressive specs and can burn just about anything you throw at it
and
has LightScribe technology to boot, it certainly isn't going to make you go "wow!". But, as far as DVD/CD rewriters go, this really is the best drive I've had so far. And for a price you can't beat. I also asked myself: "would I suggest this drive to my friends?". The answer is: "yes". And in fact I already did.

I rated this rewriter an
8.0
. To compare, I would have rated all previous rewriters I've owned between a
4.0
and a
6.0
.


The good


Burns DVD+R/RW, DVD-R/RW and DVD-RAM

LightScribe disk labeling

Fast & Quiet


The not-so-good


No headphones input (if that's your thing)
Copyright © 2006 - BuzzyPedia.com