The Logitech Harmony 880 isn't cheap. It retails at
US$ 249.99
which is quite steep for a remote. Even compared to top-of-the-line universal remotes from well-established audio/video brands, it's still one of the most expensive remotes. Then again, no other remote offers as much functionality in a device that is not much larger then, well, a remote. Like I said, other remotes tend to get bulkier the more features they offer. But the Harmony Remotes are sleek and sexy and the 880 sports a nice little
color LCD display
. Plus, every now and then some company will offer them at great prices, like Dell who not so long ago offered the Harmony 880 for only
US$ 90.00
after various rebates and coupon codes!
The packaging is just as sexy as the contents, as we have come to expect from Logitech products. You can even peek inside the box without actually opening it to admire the remote in its full glory. In the store, peeking inside the box felt much like peeking at an adult magazine's centerfold when noone is watching. A clever marketing trick from Logitech and I'm sure some marketeer was promoted on the idea.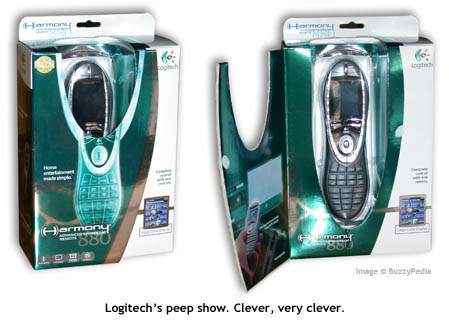 When I opened the box, I was pleasantly surprised to find the Harmony came with a docking (charging) station. And a very pretty one at that. Logitech did well when designing this Remote.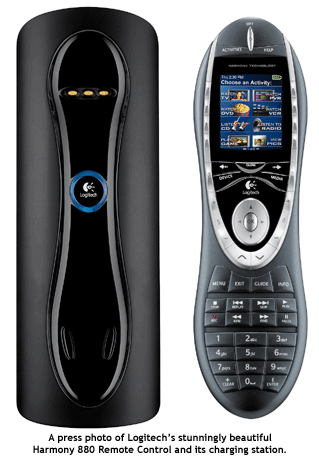 Not only does it look good lying next to its charging station, it looks great "docked" too: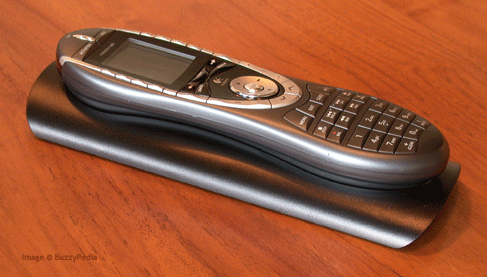 Of course it also came with an adapter which plugs into the charging station, a USB cable, and a CD with Installation Guide.
Copyright © 2006 - BuzzyPedia.com